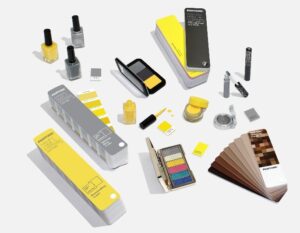 The 2021 Pantone colors of the year are Illuminating, which is a bright yellow and Ultimate Gray. These colors convey strength and hopefulness, which we all need a little bit of right now.
Are you unsure of what color you want on your special day? Here are a few trending colors we've seen so much of throughout 2021 so far.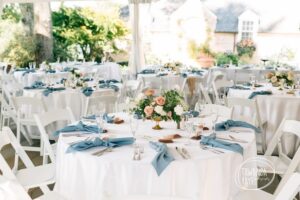 Blues:
Lighter blues have been very popular this 2021 wedding season. Powder blue, periwinkles and much more have been a huge trend. Pair these with any other darker tone and it can be used for any season! If you are looking to add hints of light blues, think of adding them to your favors or in your centerpieces.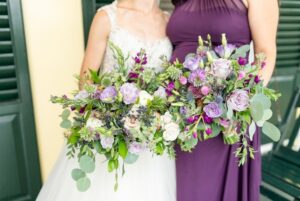 Purples: 
Lilacs and Lavenders have made a comeback in 2021. These lighter colors bring a light, relaxing and beautiful tone to your wedding. The goal for these colors is to be paired with other pastels to create a colorful, neutral but fun pallet to your big day. Use these colors on your stationary, desserts or even your centerpieces to create the wedding you've been dreaming of.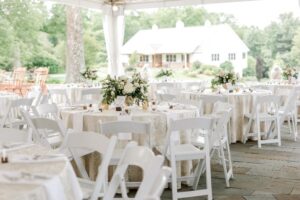 Neutrals: 
Neutral colors have always been a prominent color in most weddings, and of course they are here to stay in 2021! These colors will be seen as accents for those wanting elegance and chic. Pair these light colors with some greens and darker tones, or more detailed designs on your linens in order to create depth and dimension.
Greens:
Greens have always been used as an accent color in weddings, however this year greens will become the main color of many weddings, but in a more fun, vibrant way. Some greens that will be seen are olives, sages, and pistachio. Green is universally loved and goes well with a number of different colors… and is easy to use on almost any décor item you choose!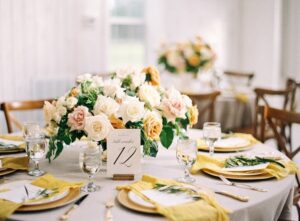 Yellow:
Bright yellow has made a huge splash this wedding season. Since Illumination is this year's Pantone color, it doesn't surprise us that it has been used as a wedding accent. Some ideas to bring in a pop of yellow are in your flowers, accents on stationary, table numbers, table runners and so much more. Pair this with ultimate gray and ivory to make your wedding day color pop.
As a wedding color is important, so are the wedding themes. Here are some trending themes that have graced 2021 so far:
Wed now party later:
People are starting to have smaller ceremonies with close family and friends and then celebrating with all of their loved ones a year later! What a great way to spend your first anniversary!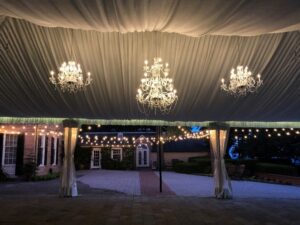 Tents & Mood Lighting:
A big thing for 2021 has been lighting. Many people are making sure the lighting matches the mood and tone they want for their special day. We have many different lighting options here! From beautiful crystal chandeliers to rustic and elegant festoon lighting, there is something for everyone's wedding dreams.
Live Streaming:
Be prepared for many weddings this year to be live streamed. This allows friends and family from far away to see the ceremony, from the comfort of their own homes. With COVID-19 still around, many people do not want to risk it. Live streaming has continued to be a focus in many ceremonies in 2021.
DIY Wedding Décor:
People are creating their own centerpieces to save money. Things like decorated wine bottles, mason jars, reused glassware and more. This is a great way to save some money in one area, to use on something more valuable to you, like food, lighting, photography and more.
We know that choosing a color and a theme can be hard. We hope this helps in making some of these decisions. If you need more assistance, contact us and our planners will be happy to talk with you about the best options for your big day!