As the pandemic continues, more and more couples are choosing to host smaller, intimate weddings. This was a huge trend in 2020 and will continue in 2021. There are a few smaller wedding options couples are choosing, according to Wedspire.
Micro-Weddings
The first is micro-weddings. These small, intimate gatherings of around 25 people make your ceremony more meaningful. Inviting your closest family and friends is not only special, but it gives you a better opportunity to spend the money you want on the people you care about the most. From fancier dinners to specialty favors and more, your guests will appreciate their time more at these smaller gatherings. Lastly, it gives YOU more time to spend with each of them!
Party Later
The next trend is "wed now, party later." Couples are deciding to get married right away, whether it be eloping, "minimonies," or anything in between. They then plan their celebration for a different date in the future. In most cases, people will want to celebrate with their family and friends on their one-year anniversary. I mean, what is a better way to celebrate your first anniversary than with friends and family! With COVID restrictions and not knowing when the end will be, this trend will be here to stay.
Extended Celebrations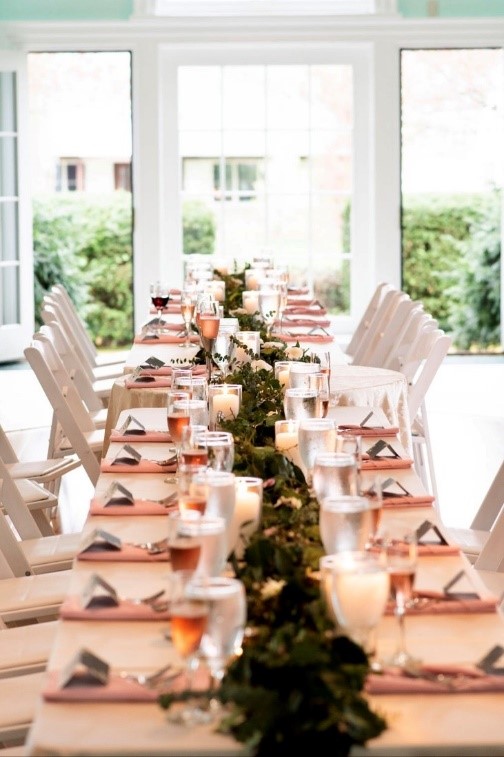 Extended celebrations are another trend that will be sticking around in 2021. Instead of having just one day to celebrate, why not have a whole weekend? Many couples choose to have smaller weddings and then celebrate with their small guest list for a few days. This gives couples a chance to celebrate their love over a long period of time while spoiling their guests as well.
Smaller Weddings Allow You to Focus on Making Your Wedding Stand Out
Since you have a smaller guest list, you can now focus on the décor and not about who you may have forgotten to invite! Your smaller wedding will be just as beautiful as a large reception, with these ideas on how to make your small wedding pop.
Focus on Your Décor
Table settings with elegant centerpieces, lots of florals, and greenery are sure to impress your guests. Pick an accent color and have stationaries made of the menu for the night. Place it on a beautiful charger with a custom place card for each guest. This will make them all feel extra special, loved, and welcomed to your special day.
Pick Out Your Dream Wedding Dress
Stun your guests with 2021's most popular wedding dress style. Dresses with sleeves are now in style. Choose to have a full sleeve, quarter sleeve, see-through with lace accents, and more. There are so many ways you can design a dress. Make it yours, make it unique, and your guests are sure to be amazed.
Add Unique Lighting
Having the right lighting for your special day is important to set the perfect mood. Think of your wedding theme. Do you like more rustic, farmhouse style decor? Then maybe add some rustic festoon lights above the tables or a custom-made chandelier. Are you more of an elegant person? Maybe look for some beautiful crystal chandeliers or twinkle lights to set the mood for your space.
Celebrate with Drinks
Custom beverages can be a plus on your wedding day. Create a drink for your special day or share your favorite drink with your guests. They will remember things with creative names, too, so be sure to have fun with it!
Offer Unique Foods
A variety of unique and custom hor d'oeuvres are a great way to make your wedding pop. Think about your favorite foods. Now think about how you can make them into a delicious small bite. Do you need help? Our chef can help customize your menu for your small gathering with ease.
Live Streaming Options for Guests
If you want to include a few other people in your small gathering, you can always live stream your event. Send these people a "Welcome Box" with favors, food samples and custom drinks, recipes, and more. This way, they feel like they are there celebrating with you, even if they are not physically there!
Work With a Wedding Planner for Your Small Wedding
Deciding on what type of wedding you want is difficult, especially during a pandemic. Don't stress about it. Contact Drumore Estate, and our experienced wedding planners can help you in your decision-making process. They are there for you from beginning to end. Our team here will help make your small wedding dreams come true.