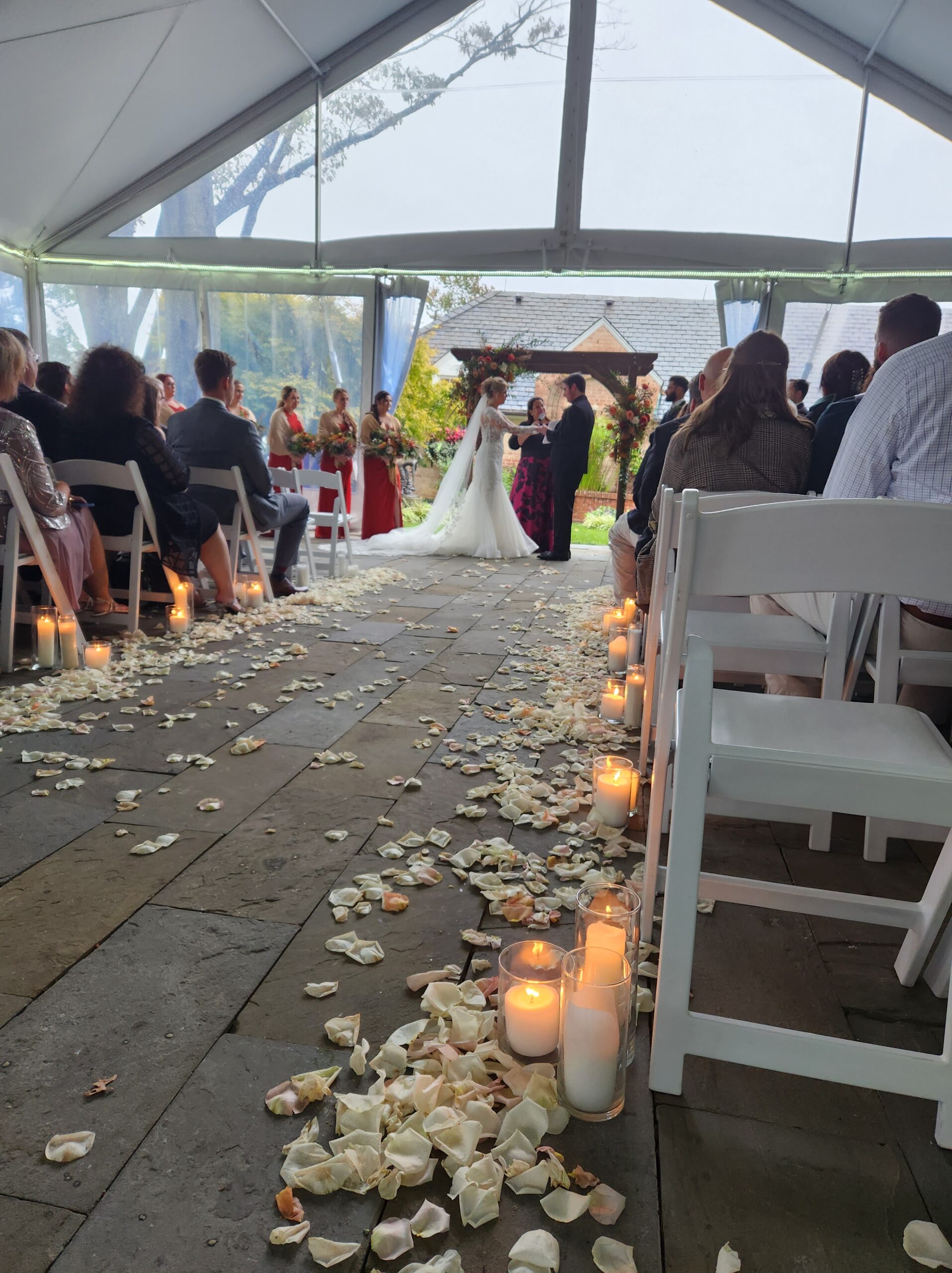 No one books their wedding hoping it rains, but there is always a chance. Don't be discouraged if you look outside and see puddles and gray skies! Your special day can still be a success with some thoughtful planning ahead of time.
Here are a few tips to make the best of a rainy wedding day!
Protect Your Dress
If you want to take outdoor photos, but don't want the look of a muddy hem, consider purchasing or renting a bridal petticoat. Many petticoat styles are available, even for mermaid and trumpet-style wedding dresses. They lift the gown's hem ever-so-slightly to keep it from dragging.
You can always spray the hem with something like Scotchgard or take it to the dry cleaners to have a professional do it for you.
If you are genuinely concerned about compromising the bottom half of your dress, simply opt for a shorter style to be safe!
Embrace the Rainy Wedding Photos
Rainy wedding photos are in no way dreary. If anything, they can be romantic and stylish, forcing the happy couple to get cozy and surrounded by the beauty of nature.
They can be some of the most breathtaking and impactful wedding photos!
Pro Tip: Investing in umbrellas for the whole wedding party will be key to making your rainy wedding photos stand out. Clear umbrellas are your best bet for wedding photos since they won't obstruct the view or cast a shadow on your face.
Rain-Proof Your Hair and Makeup
Get in touch with your hair and makeup artist to inform them about the inclement weather, so they can prepare to weather-proof your look. If your hair is naturally prone to frizz, treat it to plenty of love in the run-up to your wedding with moisturizing products. If you were planning on having your hair down, it might be worth switching to a chic updo, as these generally do better in wet weather than big blowouts.
The most important thing to do when expecting a rainy wedding day is to communicate your concerns with your venue and event planner.
At Drumore Estate, our wedding coordinators and event staff ensure you experience the wedding of your dreams, even if it rains! We have successfully hosted photo shoots and special events in the past, despite unpredictable weather. Our event managers will do everything they can to get you married outside and wait an hour and a half before your wedding to make the final call. We make these decisions based on past experiences and your guests' safety and comfort. No one wants to sit in the rain, especially when it's cold, damp & dreary!
In the event of rain, your ceremony may be held in our Grand Tent, Carriage House, or Orangery. We offer these three exclusive venues for our guests, so your wedding day is as magical as you imagined, no matter the weather conditions. Our facilitators will add some pretty extras, like candles, to make your rain backup plan space beautiful, creating a warm, cheery glow!
Contact us at (717)284-5076 to book a venue tour and receive more information.