Wedding guest book ideas are pretty easy to come by. But ones you haven't seen before, not so much! It's exciting when a couple comes up with something new and unique. Something that truly reflects your personalities, and is fun for your guests. But, I'm also a bit traditional in this sense, because I love a classic, but beautiful personalized notebook. In any case, it's a wonderful memory of everyone able to celebrate with you on your wedding day. Here are 7 wedding guest book ideas for you.
1. Personalized Wedding Guest Book Ideas
This could come in a few forms; notebook, canvas, framed image. This is a great opportunity to scour Etsy and find the perfect artist to sketch the two of you. Or, if you are as in love with the gold leaf trend as I am, a notebook with your names and wedding date on the front is perfect. I also love the idea of a custom skyline of the city you met in, that is pictured below.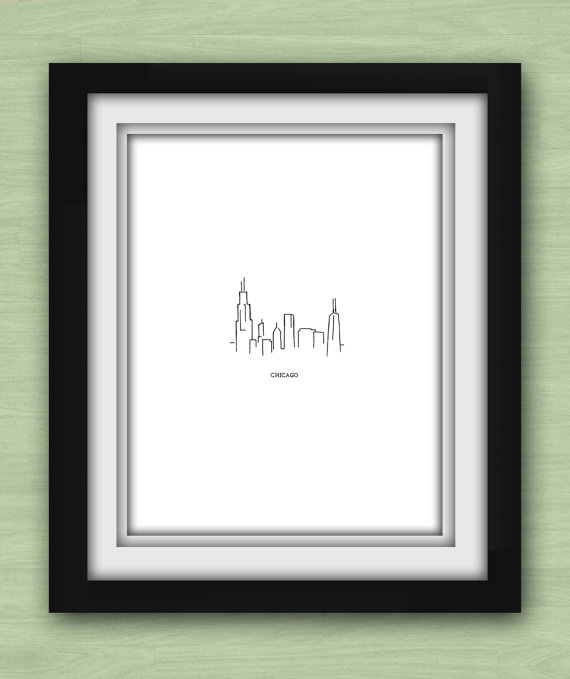 2. Tip Jar
Asking for marital advice from your guests is fun for everyone! Not only will you get sweet, sentimental notes and tips, there are guaranteed to be some good laughs in as well 😉 You can buy or make a fun container as your 'tip jar' that can sit in your home and be enjoyed for years to come.
3. Postcards
I was recently at a wedding where the couple are avid travelers. Their version of a guest book was postcards. You wrote your well wishes as well as a spot for them to go on their next adventure. What a fun way to show your personality and get some personal travel recommendations. If you're not ready for that next adventure quite yet, why not address and stamp the postcards so your guests could send them to you? You'll have a stack of snail mail to return home to after your honeymoon.
4. Time Capsule
The ideas for this one are countless. Wine bottles, notebooks, or containers. Your guests can write advice or well wishes and choose what year of marriage you read them. You can choose the years, but definitely include your first anniversary!
5. Hiring an Artist
This is a great way to double up on your guest book and your wedding favors. Find an artist that will do personalized sketches, silhouette's or caricatures. If their art is done digitally you can arrange to receive a copy of all of the art as a record of everyone who attends your wedding. Bonus, this is a great activity for those 'non-dancers' if you have any, that will be coming to your wedding.
6. Photos
Here is another idea that has limitless options. Some of the classics are a photo booth or polaroids. You can also use a coffee table book of your engagement pictures as the signing book. This is a great way to enjoy your engagement pictures beyond the wedding.
7. Video Messages
Videographers are extraordinarily talented at capturing stories, so why not find one that will also encourage your guests to be a part of your wedding story? You could even do this Mad Libs style and have some specific questions they can ask your guests. But be prepared to laugh, cry and maybe even roll your eyes a few times while you're watching the final cut 😉
These 7 wedding guest book ideas are just a few of the countless suggestions you can find online. Whatever you choose, you will enjoy looking back at your guest book for years to come, so it's worth some thought and creativity in your planning. The key is to find one that suits your personality, and encourages your guests to interact. Good luck in your search for the perfect guest book!
Cheers to Love,
Nat