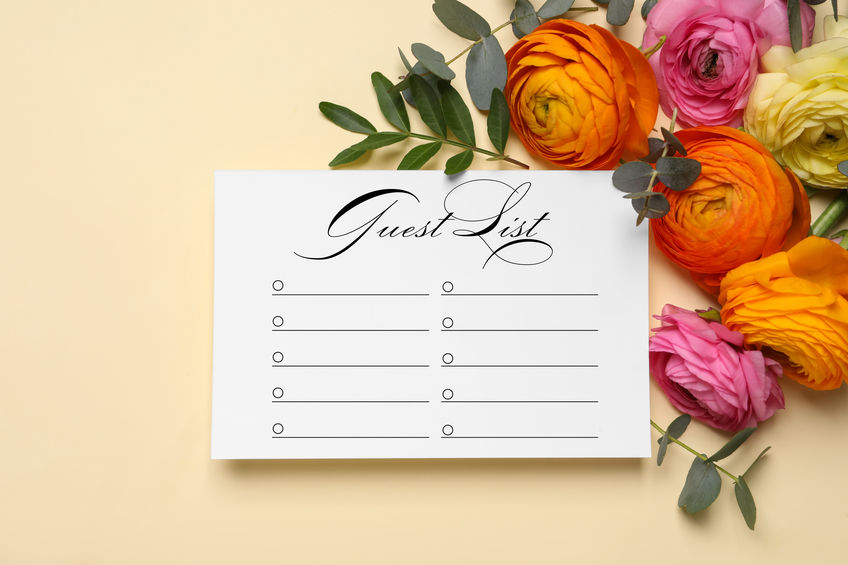 You're engaged, booked your wedding venue, and have your date! Now it's time to start your guest list. Family, friends, coworkers, that third cousin, twice removed. Who makes it on the list, and how do you navigate those special scenarios? As you can imagine, this task can get complicated.
Here are three easy ways to get your wedding guest list started to avoid causing unnecessary stress or overwhelm.
Write Down Your Dream Guest List
Start by writing down everyone you'd ideally like to have at your wedding. This includes family, friends, coworkers, and anyone else you think would be fun to have at your wedding to celebrate with you and have your fiancé do the same. This gives you a great starting point. You'll want to speak with your parents about who they would like to be there as well, especially if they are helping financially. Once you have this done, count them up. If you're close to or under your ideal number, then great, you can move on to booking your DJ! If your list exceeds your ideal guest count, it's time to start trimming.
Do Some Refining
There are a few ways to do this. You can take off coworkers you barely talk to, or those third cousins twice removed that you've only seen one time in your life. You can also eliminate allowing guests to bring dates. Generally, 20% of your guest list won't be able to come. Unfortunately, you can't choose that 20%, but that can also give you some wiggle room with the number of invites you send out.
Be Realistic
The biggest thing you must remember in making your list is that this is your wedding day. Remember that you won't have enough time to have a 10-minute conversation with everyone who comes; it's just not realistic. So, if you're more of an introvert, a smaller wedding will be much more enjoyable.
Your venue most likely has a maximum number, and usually, so does your budget. Cutting down your guest list is an effective way to save on the cost of your wedding, so if that is your concern, trim away! If you love being the center of attention, have lots of family and friends, and have the budget for it, invite everyone, but remember, not everyone you know will be able to come to your wedding, so don't feel guilty about cutting the list down.
These three easy ways to start your wedding guest list should have you on the right path and very close to your ideal guest number! It's up to you who is invited to your wedding. So, start writing down those names because after you figure out your guest list, you can move on to more exciting aspects of wedding planning, like music, food menus, floral arrangements, photographers, and more!
At Drumore Estate, we have the industry knowledge and resources to help you plan your dream wedding at our award-winning venue! Booking your special day with us means you're getting the best personalized wedding planning service that Pennsylvania has to offer. No matter the size of your wedding, we have a package that will provide you with everything you need to have a successful celebration, like an event facilitator, catering services, and more!
Contact us by phone at (717)284-5076 or fill out our contact form online to learn more about our estate and begin planning your special day at one of our breathtaking venue options.