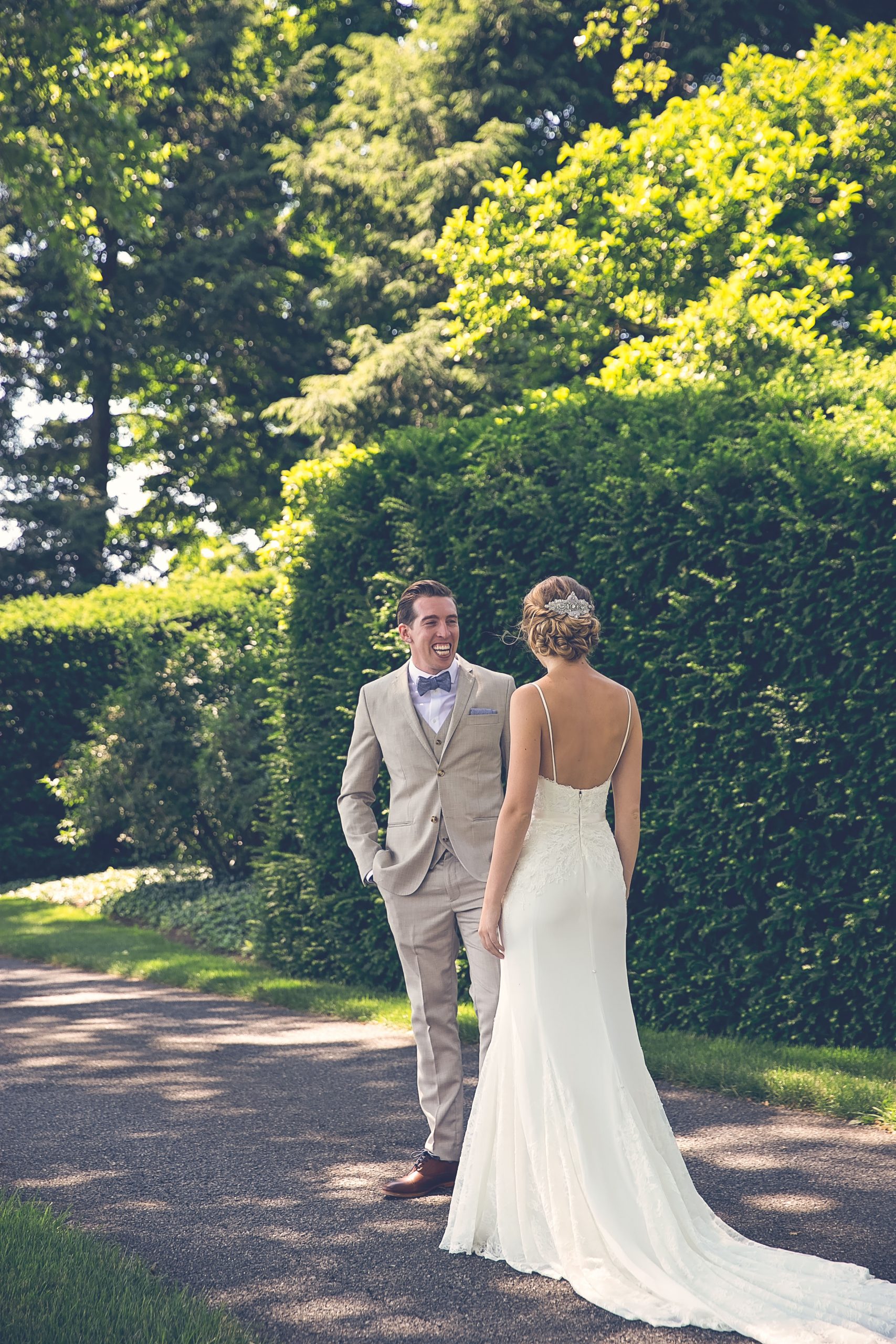 Locking eyes on your significant other for the first time, wearing your wedding day attire, getting ready to say vows, and committing to each other forever and ever is a once and lifetime experience that can be overwhelming for some. A first look, although not traditional, can have many benefits for the couple about to say I do. Every year, more couples choose to see each other before the wedding ceremony for a special, emotional moment.
Here are a few reasons to consider doing a first look on your wedding day!
A Special Moment for You and Your Partner
Having a first look will give you that moment where it is truly just the two of you on your wedding day. Sure, your wedding photographer and videographer may be snapping away, but they will typically give you enough space to take in the moment. It may be the only time of the day when it's just the two of you. Think about it, when you walk down the aisle, there's an excitement to see each other, but you won't have the chance to embrace until after your vows are shared. The first look gives you that chance.
Opportunity for Amazing Photographs
Having a first look allows your photographer to control the lighting and background. Since they can't control the weather, or the rules of traditional churches, this will give them the freedom to be creative and capture your emotions as they happen without being restricted. You will get more photos of the two of you and be able to enjoy your limited alone time together that you otherwise wouldn't have.
Relieves Stress from Your Wedding Day Timeline
You have heard it said before, but your wedding day will be over before you know it. You've put so much time and energy into planning a perfect day; you should take the time to take it all in. Having most of your photos done before the ceremony will allow you to spend time with friends and family. You'll be able to enjoy cocktail hour and all the food you have been looking forward to, and you will have time to sneak into the reception to see your plans come to life before everyone is seated. The rest of the night is yours to dance, laugh and celebrate with the ones you love.
Bonus: If you are very nervous about being the center of attention all day, a first look will help calm those nerves. You get to see the love of your life before everyone else, relax before the ceremony, and have a glass of champagne!
Having a first look is completely your decision, but as you can see, it is worth considering.
At Drumore Estate, we support the couple's decision on how they want their wedding day to unfold and help plan and organize their special day to perfection! There are so many ways to personalize your wedding day, and we have the space and amenities to accommodate all your non-traditional popular wedding trends.
Schedule a personalized tour of the best wedding venue near Philadelphia and call (717)284-5076 to learn about our wedding packages!