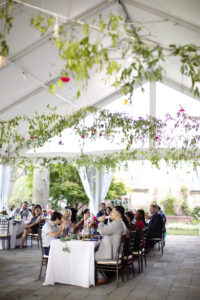 There's nothing quite like a summer wedding. The sun is shining, flowers are blooming, and love is in the air! However, as beautiful as summer weddings can be, the heat needs to be taken into consideration.
Here are a few tips to keep your wedding guests cool and comfortable on your big day so everyone can enjoy themselves.
Provide Plenty of Shade
While your guests will undoubtedly appreciate the beauty of an outdoor ceremony, they'll also need a chance to unwind and cool down. It's a good idea to provide shaded areas where they can cool off. You can opt for a tented reception area or smaller canopies for guests to rest and relax.
Keep Guests Hydrated
To ensure the comfort of your guests in the sweltering sun, it's essential to keep them hydrated. Make sure to have multiple water stations available throughout the venue. You could also add a special touch by offering infused water with refreshing flavors like cucumber or lemon.
Supply Handheld Fans or Parasols
Handheld fans or parasols can serve a dual purpose: they can keep your guests cool during the ceremony and be taken home as a charming keepsake. You could even personalize them with your wedding date or monogram for an extra touch of thoughtfulness!
Lighten the Menu
It's always important to consider the season when crafting your wedding menu. On hot days, heavy meals may feel too much to handle. Instead, choose lighter options such as fresh salads, chilled soups, and fruits. As a fun dessert option, you can also offer frozen treats like sorbet or ice cream!
When you prioritize your guests' comfort in your wedding planning, it demonstrates genuine consideration. These thoughtful touches will make your big day more enjoyable for your guests and enhance the overall experience, resulting in a memorable wedding for all.
When you're ready to start planning your perfect summer wedding, consider the beauty of Drumore Estate! With stunning venue options that offer a perfect balance of indoor and outdoor spaces, this could be your dream location. We offer customized menu options and an event facilitator to help you plan your day to perfection, along with other amenities, to ensure your wedding is stress-free from start to finish.
Contact us at (717)284-5076 for more information and schedule a personalized tour of the estate online today!