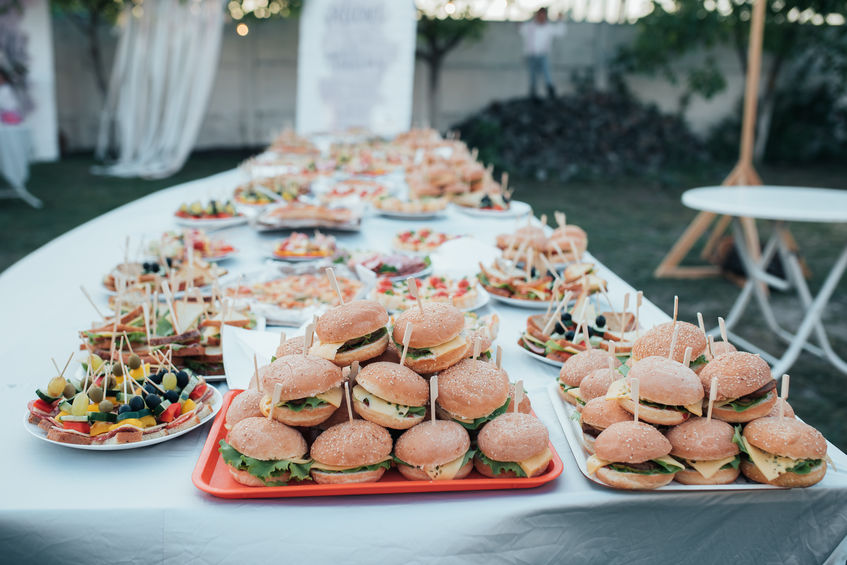 Wedding receptions are a ton of fun, especially if you're spending the entire night dancing and singing with your guests. Despite all the fun you're having, late-night weddings can get tiring fast. To help keep your guests in the mood to celebrate all night long, surprise them with delicious treats towards the end of your reception. The perfect snack will help get your guests back on their feet and ready to hit the dance floor!
Here are some of the most popular late-night snack ideas for your special day:
Doughnut Holes
If you're looking for a bite-sized sweet treat, doughnut holes are a crowd favorite! They are just enough to fill you up at night without getting too full. Plus, you can get creative by adding an assortment of flavors and dipping sauces for your guests to try.
Milk and Cookies
Another great treat to cap the night is a warm homemade cookie with a glass of chilled milk. Your guests will appreciate the extra sugar, and the combination will leave them with a bit of nostalgia. You can also offer different cookie and milk pairings by adding plant-based milk options and different cookie flavors.
Pretzel Bites and Beer Cheese
Nothing hits the spot after dancing, and great cocktails like the warm and salty flavor of soft pretzel bites. Baked to perfection and served with a mixture of beer, cheese, and onions. What is there not to love? The best part being, this is customizable to include sweet or other savory ideas like chocolate, caramel, Cajun, or old bay and butter.
Call a Food Truck
Do you have a favorite treat that you couldn't imagine not having on your special day? Call your favorite food truck and request them to park outside of your reception at the end of the night. Whether it's a sweet treat truck or a taco truck, your guests will be just as excited as you to see their favorite food truck parked outside of your reception as they head out for the night.
Bite-Sized Foods
Serving mini foods at your wedding reception has been trending for the past few years. From personal gourmet French fry cups to delicious sliders, mini foods are a great route to go! Whatever you're craving, it can usually be made or split into smaller, personal portions.
Add the personal touches that you've always dreamed of at your wedding by planning your reception at Drumore Estates. Start your wedding planning today by contacting our friendly staff!